Why Raven?
Grown under commercial conditions and performance recorded to ensure data backs up quality, a Raven bull comes well grown & docility tested. Raven bulls are all DNA evaluated for pesti virus, polled status, coat colour and fertility tested.
Raven Limousin offers the option of pure Limousin bulls for beef producer looking for a terminal sire that delivers a full dose of muscle to their calf crop as well as registered black composites - Lim-Flex50 (50/50 Limo/Angus) and Lim-Flex75 (75/25 Limo/Angus). Both designer Lim-Flex's give the beef producers the benefits of hybrid vigour (heterosis) through added weight gain and yield in their steer turn-off, along with the benefits of maternal heterosis in the Lim-Flex sired replacement females. Maternal heterosis will provide an increased gain in fertility, milking ability and longevity in your herd, giving you an easy care, profitable cow herd.
Example: Using Lim-Flex50 bulls over a commercial Angus herd will produce steers and replacement females that will have 25% Limousin infusion offering saleable stock to many markets (including some premium Angus markets) as well as easy care replacement females that will have the performance edge over pure-bred herds.
RAVantage
RAVantage is a package of advantages you receive when purchasing Raven genetics. We provide service to our bull clients continuing past the farm gate to achieve the best from the bulls purchased and progress the herds they enter.
Raven Annual On-property Bull Sale - Feb 23rd 2017
"New genetics and a new generation of specialised breeding"
Raven 2017 bull sale e-catalogue
RAV Bull Selection
RAV Health - Fully vaccinated (Ultravac 7 & Vibriovax) Bovine Johnes MN1 Accredited (MN1 Accredited #S418), Pesti-virus & semen tested
RAV Docility - Docility tested and scored, ensuring docile bulls
RAV DNA Tested - muscle/colour/polled/pesti
RAV Bull Management
RAV Delivery - Free bull delivery within 200kms radius of Sale Complex & Property in South Australia
RAV Replacement Heifer Selection
RAV Breeding Strategies
RAV Breedplan recorded - rated: 5 Star Completeness for data collection
RAV Guarantee - Member of the 'Limousin Assurance Program'
RAV Carcase Proven- Awarded Grand Champion Carcase at the Southern Grassfed Carcase Classic 2013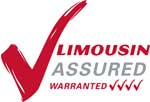 More information on the Limousin Assurance Program >>

More information on Breedplan 5 Star Completeness rating >>