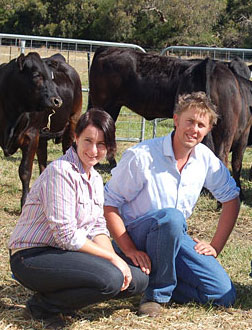 The Raven Limousin farm has been a family enterprise since the property 'Coolaroo' was purchased by the late Barry Schulz in 1976. He and his wife Joanne owned and operated what was then predominently a sheep and cropping enterprise until Barry's passing in 2000.
Today the business trades as 'Schulz Livestock' under the company entity, Raven Limousin Pty. Ltd. The business is a partnership between Jason, Penny and Joanne Schulz.
As well as operating the commercial enterprises, Jason and Penny are founding members and stud principals of the Raven Limousin and Lim-Flex business (est. 2008).
Jason & Penny are also actively involved in the beef industry, volunteering their time to judge beef cattle (both Royal & country shows) and contributing to industry committees and organisations. Jason is the current South Australian Limousin Chairperson and a director on the board for the Australian Limousin Breed Society. Penny is a board member for Livestock SA and the Australian Beef Industry Foundation and a member for the South Australian cattle advisery group. Penny has the honor of being the
2014 RIRDIC South Australian Rural Woman of the Year
Selecting and judging cattle is in their blood; they are both past winners of the highly regarded Angus Youth Australian National Beef Cattle Judging Competition.
Pictured: Jason & Penny Schulz
Want to know about our family business?
Click on the link to watch the video: Schulz Livestock business