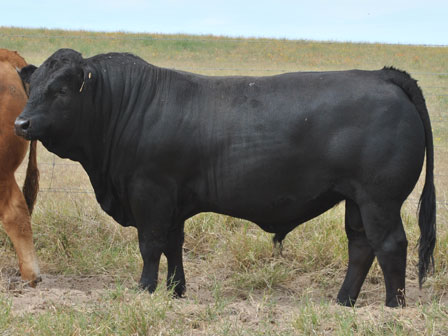 Pure Limousin
Raven Limousin produces both Black & Red cattle for the ever growing market. However the Raven herd specialises in Black & Polled genetics, a configuration that is well suited to current market specifications and with the added advantage of Limousin's high growth rate, muscling and meat yield. The Raven herd delivers these profitable market attributes with a focus on breeding structurally sound, docile cattle that have an ability to finish on pasture.

Our herd was established in 2008, after successfully using Limousin sires over the Schulz commercial Angus & Murray Grey herd for more than a decade.

Initially, embryos purchased from the dispersing Kensal Limousin herd were implanted in the family's commercial cows. Later, several elite females were purchased from Australia's leading Limousin herds selected on superior growth, carcase, maternal and temperament characteristics. Some of these females are now being used in our donor program to grow the Raven Limousin herd using only elite bloodlines.
Raven Limousin puts emphasis on using only breed-leading Limousin genetics, many of which are imported from North America. Rigorous data recording provides the basis for future breeding strategies as well helping our clients to make informed bull purchase decisions.
Pictured: A pure Black Limousin bull.
Why Limousin?
Limousins are an exceptional breed for feed efficiency, weight gain, high dressing percentage and yield. Limousin is one of the few European breeds that are known for their ease of calving complemented by rapid growth.
Limousin cattle also have a unique muscle allele (F94L - often known as the Limousin muscling gene) that gives the breed its heavy muscle with no negative impact on calving ease, maternal traits or tenderness and meat quality. This muscle allele is one of the key factors in why Limousin and their progeny have higher dressing percentages (58-63%) and higher meat yield, which in turn makes the breed very efficient and profitable to all members of the process chain, producers and processors alike.
Why Black?
Simple really - with Australian markets currently offering premiums for black and Angus infused cattle it is evident that the industry requires a breed to use that will deliver hybrid vigour, increase weight gain, muscle and meat yield.
At Raven we merge the benefits of the high yielding Limousin with a marketable black hide (Muscle Packed, Wrapped in Black) When using our black bulls, producers having the advantage of having progeny that can be sold in a range of markets.
Raven also DNA tests so that clients who want only black progeny can select bulls that are DNA proven to be Homozygous* Black.
*Homozygous = DNA tested to have identical alleles for a single trait (in this case black- meaning only black progeny will be produced from this animal)

Lim-Flex (Limousin X Angus)
What is a Lim-Flex?
A Lim-Flex is a registered Limousin/Angus cross, combining the best of two breeds.
When stabilised at 25% to 75% the resulting Lim-Flex animal maintains the maternal, do-ability and marbling characteristics of the Angus breed whilst maximizing the yield, growth and muscle that is unique to Limousin. This hybrid vigour has proven very successful to straight Angus (British) herds looking to add performance and increased daily weight gain, whilst still maintaining marketability.
Pictured: A Lim-Flex bull.
Example: When using a Lim-Flex50 (50/50 Limousin/Angus) bull over Angus or black cows producers receive the benefits from the 25% influence of Limousin in the progeny, without losing traditional (Angus) markets or replacement females.
The Raven Lim-Flex program (est. 2008) is built on a solid foundation of quality select Angus registered females that have come from the heart of the "Bull Oak Well" herd.
These dams have been chosen for their depth of body, do-ability, sound structure and solid pedigrees with leading Angus sires such as BR New Design 036, SAV Bando 0699, Te Mania Unlimited, Te Mania Infinity, Ardrossan Admiral A2 and Scotch Cap.
The foundation Angus females have then been infused with breed leading Limousin genetics, with the top Lim-Flex females remaining in the Raven herd.
Select bull calves are performance recorded, grown out on pasture and sold on as 18-20 month old bulls that have increased yielding capabilities of the Limousin breed, while maintaining the maternal milk (to pass on to retained daughters) and softness traits typical of Angus cattle.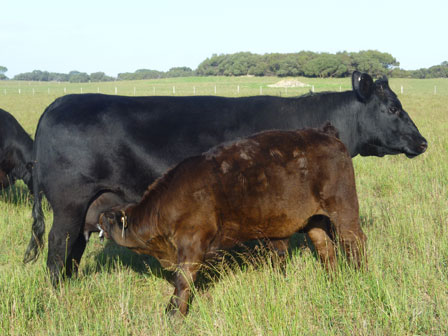 Why the name FLEX?
F.L.E.X. stands for Flexible Limousin Efficient Cross (X) - the Australian beef industry's answer to a feed efficient, profitable and marketable product that allows beef producers the flexibility of easily managed crossbreeding for replacements and terminal progeny.
The FLEX effect provides:
Flexible marketing options for progeny that consistently achieve a high dressing percentage, along with yield and quality grade targets for mainstream, case-ready markets.
Flexible females adapted for efficiency, through the advantage of maternal heterosis, to be productive across a wide range of Australian environments.
Flexible to use as bulls over Angus (British) based cows without sacrificing traditional markets. Lim-Flex cross Angus progeny fit a range of markets that demand black cattle with the added producer benefit of yield and weight gain.
Pictured: An Angus dam with a Lim-Flex calf.