Welcome to the Raven Limousin & Lim-Flex Website
SAVE THE DATE: Raven 2018 Bull & Female Sale - Feb 22nd
Click to view Videos of Catalogue Lots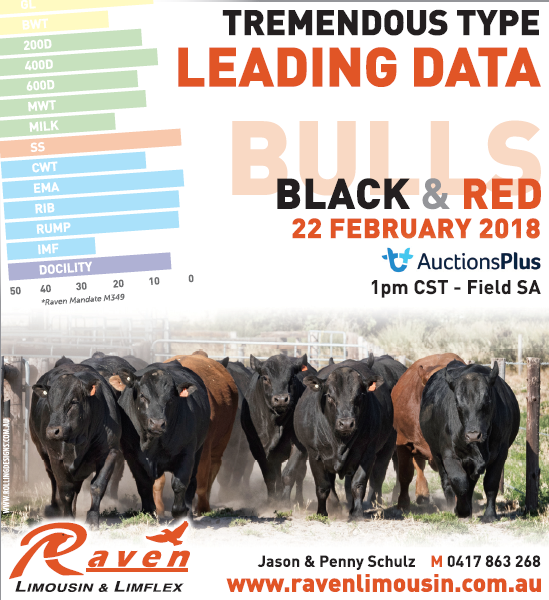 Want to know about our family business?
Click on the link to watch the video: Schulz Livestock business
Fierce bidding for $12,000 Raven heifer!
L-R: Ryan Bajada, Chris Meade - Pelican Rise & Jason Schulz with
Raven Red Mississippi ET M581 who sold to Pelican Rise for $12,000
A homozygous polled, nine month old heifer, Raven Red Mississippi ET M581 reached a $12,000 high after a lengthy bidding dual at the 2017 Limousin National Sale in May.
The heifer was sired by the sort after genetics in Greenwood PLD Zambuka and is an embryo calf from the renowned Raven donor Ms Gillard G81. The resulting combination delivered tremendous phenotype and data to impress.
"The interest in the heifer from breeders after her outing at 2017 Sydney Limousin feature show was overwhelming", Jason said.
Mississippi won her junior heifer class at the Limousin Nationals and was purchased by Chris and Merilyn Meade, Pelican Rise Limousin Colac, Victoria.
Introducing our NEW Sires!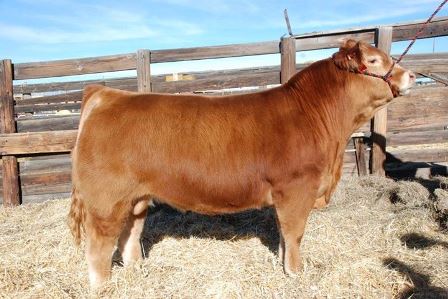 LFLC Zest 51Z (HP) Imported from Ludens Limousin Farm, South Dakota USA
LFLC Ace 750A (HP) (HB) Imported from Hunt Limousin Ranch, Nebraska USA
Birubi Kaiser K140 (HP)
Grand Champion Bull at the 2016 Australian Limousin National Show
> Purchased in syndicate with Red Oak Limousins & Maryvale Limousins
---
The Raven team breed premium cattle that offer beef producers superior performance in all aspects of the beef supply chain.
Innovative genetic selection combined with rigorous data recording and superior stock management practices ensures Raven Limousin bulls are capable of delivering heavier daily weight gains, increased muscle development and higher yields in a very marketable package. As well as offering pure-breds, Raven also provides strategic breeding options through their Lim-Flex program for producers wanting the benefits of Limousin and enhanced hybrid vigour without changing target markets.
Our participation in the Limousin Assurance Program and awarded highest rating of 5 Star for 'Completeness of Performance' in data recording, gives buyers of Raven Limousin bulls even greater confidence that the animal they receive will perform to expectations.
Click on the above logo's for more information.
---
Raven Krystal Horizon H756 described as Futuristic by judge!
Limousin Nationals sale report
Limousin National - Reserve Champion Senior Female 2014Royal Adelaide Show Junior Champion Female 2013
RaveNews
2018 Raven Bull & Female Sale - Feb 22
---
Raven genetics featured in Sire Catalogue
Pursuit of Performance Sire Catalogue 2017/2018
---
Sydney Show Success!
Raven heifers in the front lines at Sydney Royal Show
2nd place in the 9 - 11mth old heifer class: Raven Red Mississippi ET M581
6th place in the 9 - 11mths old heifer class: Raven Red Minnesota ET M181
3rd place in the 11 - 12mth old heifer class: Raven Monarch M81
---
Two NEW imported outcross sires have arrived in Australia.
These bulls were selected on a recent trip to the USA in November 2015. Admired for their sound structure, phenotype, data and consistent progeny we were fortunate to access their genetics.
---
Raven 2017 bull sale
Top price $9000 (twice)
Average $5840
---